Rt. 85 work expected to finish soon
Hi,
I'm Craig from Sky Photos LLC.
I've worked in industrial automation and project management for the last 20 years, starting in GE and most recently Commercehub, but I've always enjoyed the process and fun of photography. After leaving Commercehub, I started Sky Photos. I took the skills I learned in college - Computer Art, English and Earth science - and put them to use.
I first fell in love with Drones in 2015, when I won a Phantom 2. I learned to fly, travel, and capture aerial media with this drone. I've also flown a number of other drone models, the most recent being the Mavic 3 CINE edition, which can take professional quality videos.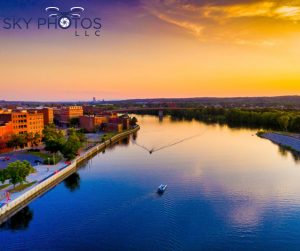 I started Sky Photos in 2019 after finding that there is a market locally for aerial photography and videography for businesses.  One of my first clients was a real estate investor, who I helped identify a property with the ruins of a castle on it.  After that, I was hooked.
Drones can provide such a unique perspective and view that they are used in nearly every industry. I work mostly in construction, where a weekly or biweekly data capture of project progress is standard when using modern construction methods. Since I'm on construction sites so often, I carry the usual flight and business liability, but also workers compensation, which helps reassure my liability-conscious clients.
To become a drone pilot, you have to pass an FAA certification process. For professionals this includes a fee and travel to a testing site, but non-professionals can take an online class/workshop and be awarded the TRUST certification after only a few hours. Working with the FAA as a pilot, I've coordinated flights in several different states, and I have a waiver to operate in the Schenectady area too, which is under special military authorization rules.
Sky Photo's mission is to provide outstanding aerial media for your business needs. We also provide ground and panoramic imagery with specialized equipment such as drones and 360 degree cameras. This is great for virtual walkthroughs and documentation, and a necessity for real estate. For events such as farm festivals, we can provide before, during and after images so you can see how things are and how they turn out.
As I write this, the second week in February, it's 23 degrees out and the coldest part of the year. We're expecting some cold and windy days, but I have experience flying in wind, rain and of course, cold. Aerial photography is available year-round, even in 23 degree weather. I am looking forward to Spring though!