Rt. 85 work expected to finish soon
Celebrate food, fun, and our area restaurants January 24-31.
Jump on over to our restaurant listings and try a new restaurant you haven't tried yet, or head to one or two of your favorites whether it is for breakfast, brunch, lunch or dinner.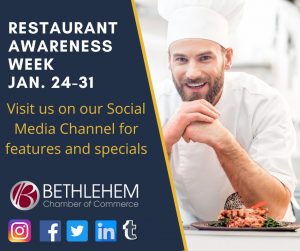 Comment on our social media posts and share your love.
Did you know that Nicole's in Albany has brought back Sunday Brunch? Make a reservation, and check out some fantastic food, like lemon ricotta pancakes with blueberry compote.
Garden Bistro 24, in Slingerlands, features Hearty Winter Wednesday, with special warm comfort food. And then the next day is Family Friendly Thursday, where you can get a meal for 2 or 4, Jan. 27 features: Winter Vegetable Bolognese, with house or Caesar salad, rolls, dessert, and a choice of featured wine.
Track 32 offers weekly specials. This week they feature Mandarin Chicken Salad with grilled chicken; Jacked Beef Brisket Sandwich. On the entree side, is Chicken Ravioli Bake and Eggplant Rollatini. Theresa meets pizza. The Chicken Theresa Pizz includes marsala sauce, mushrooms, chicken, spinach and mozzarella. And don't forget dessert: Cannoli, Molten Lava Cake, Peanut Butter Pie, or Chocolate Lovin' Spoon Cake.
Emma Cleary's Restaurant is serving up dinner Tuesday-Saturday this week, with a warming chicken and biscuit special on the menu!
Shogun Sushi and Sake Bar is serving up some amazing specials this month, including lobster kani dumplings, goat cheese beet dumplings and our crab cakes. The lobster dumpling filling is a blend of lobster, kani, kewpie, panko, scallion, parsley, lemon pepper and togarashi that is then gently folded into a spinach green wrapper. They are then fried and nested onto spring mix and mangos. Mango sauce and gyoza sauce is drizzled on to give the dish the umami and sweetness punch.