SizeUp Bethlehem! to help all size businesess
There have been concerns from residents and drivers about improper use of turning lanes at the Glenmont Roundabout. Please note and share with friends and neighbors: the right-turn lanes for northbound and southbound drivers on Route 9W are only for completing right turns. Vehicles in the right-turn lanes are restricted from continuing straight into the roundabout.
As the roundabout has transitioned to become fully operational, the newly available turn lanes have caused some confusion among drivers. We ask for the community's patience and for drivers to obey all signage, lane markings and traffic laws while traversing the new roundabout this winter.
See the diagram below for instruction on how to properly use right-turn lanes when approaching the roundabout from Route 9W northbound and southbound.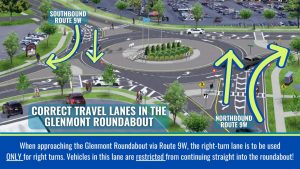 WHAT'S HAPPENING NOW
Week of December 20
No nighttime work is scheduled for this week.
Permanent roundabout signage will be installed.
Various project "clean-up" tasks will be completed.
Construction on the Glenmont Roundabout will be complete for winter shutdown this week.
Note: today's newsletter is expected to be the final distribution of roundabout construction information, until paving and landscaping work resumes in Spring 2022. Any emergency information will still be provided here; on the Town of Bethlehem Facebook page: https://www.facebook.com/BethlehemNY/
And on the town website: https://www.townofbethlehem.org/